Vote
(Total
0
Votes )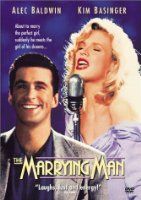 Movies:
The Marrying Man
Director:
Jerry Rees
Cast:
Kim Basinger, Alec Baldwin, Robert Loggia
Production Co:
Hollywood Pictures, Silver Screen Partners IV
Genres:
Comedy, Music, Romance
Runtime:
115 min
Country:
USA
Release Date:
1991
Rich playboy Charley Pearl meets Vicki Anderson, singer at a nightclub in Las Vegas. But she's a gangster's-moll, Bugsy Siegel's, and when he finds the two of them in bed, he forces them to marry each other. Charley was going to marry his girlfriend but when she finds out about him and Vicki, she leaves him. And Vicki doesn't seem to be his kind of woman at all...